How to choose the right wool for your future project ?
Today, as usual, we are going to talk about knitting and more particularly about wool. As you know, there are a lot of different yarns and wools on the market, so you can get lost and not know where to start ! Natural or synthetic fibers ? To make a scarf, a hat or a sweater ? For an adult or a child ? Through different steps, we will try to help you ask yourself the right questions to select the right wool for your specific project. 
For which project ?
First of all, you need to know what type of project you want to make. You have a lot of choices: a scarf, a sweater, a top, socks, a plaid or even a pillow ! Don't forget that the choice of your future work will necessarily influence the choice of wool in order to obtain the best possible result. You will not, for example, be able to use the same wool to create socks or a plaid. 
Also, it is very important to know if you want to knit or crochet your work ! 
Indeed, some wools are particularly suitable for crochet and others will be more specifically used for knitting.

For whom ?
Then, once you have decided on the type of project you want to do, you need to know who you want to do the work for. The choice of wool will not be the same if you want to make a project for an adult, a child or a decoration for your interior for example.
For babies, it is best to avoid wools that could irritate the skin such as mohair for example. Hairy, fluffy or plush wools should also be avoided. We advise you to use wools specially designed for layette in synthetic materials such as acrylic with RAPIDO FINE or polyester with MANGO.You can also choose wools usually used to knit socks and which have a mixture of wool and synthetic material such as the NEW RUNNING or the SUPER EXTRA. 
For adults, the choice is very wide because there is no particular contraindication. You will have to choose the wool according to your preferences and the aestheticism of it. You can opt for noble wools or synthetic yarns. 
Finally, if your goal is to knit or crochet a decorative accessory, you will have to choose a wool that will perfectly suit it, according to your desires. You can choose a wool with a very thick thread to make a great plaid or a wool stiff enough in cotton or acrylic to make a basket for example.
What style do you want it to have ?
Now you know what project you want to do and for whom. Now you have to ask yourself: what style would I like to give to my work ? To answer this question, we highly recommend looking for inspiration on websites such as Pinterest or even Instagram to get as accurate an idea as possible of the desired final look. A preference for light projects? Fluffy? On-trend? Large stitches? You'll need to choose a type of yarn and needles or hook accordingly. 

Which materials should I choose ?
At this point, you've already done most of the work in choosing your wool. The technical decisions were made in order to have the best possible rendering for your future project, whether knitted or crocheted. From now on, you have to take into account your tastes and desires to find the right wool for you. Do you prefer to knit synthetic materials, like acrylic, or natural materials, like alpaca ? Do you have a problem with washing your work by hand ? Are you environmentally conscious ? All the answers to these questions should be taken into consideration so that you can finally find THE perfect ball of yarn for you ! 
And how many balls do I need ?
Depending on the weight of the ball, the yardage of the yarn and the way you knit or crochet, the number of balls you need to complete your project will vary significantly. At La Lainière de Wazemmes, on our website, we provide you with a ball calculator on most of our product pages. This tool allows you to estimate the quantity of balls needed for your project. You can find it at the bottom of the product sheet you have chosen on our website. For example, you will need 10 balls of CASHWOOL from Textiles de la Marque to knit a size 40 sweater in jersey stitch. You won't have to worry about calculations anymore, La Lainière de Wazemmes does it for you! If ever the ball you have chosen does not have this calculator, we can inform you by phone 03.20.57.09.46, by mail at lainieredewazemmes@gmail or by private message on Instagram or Facebook.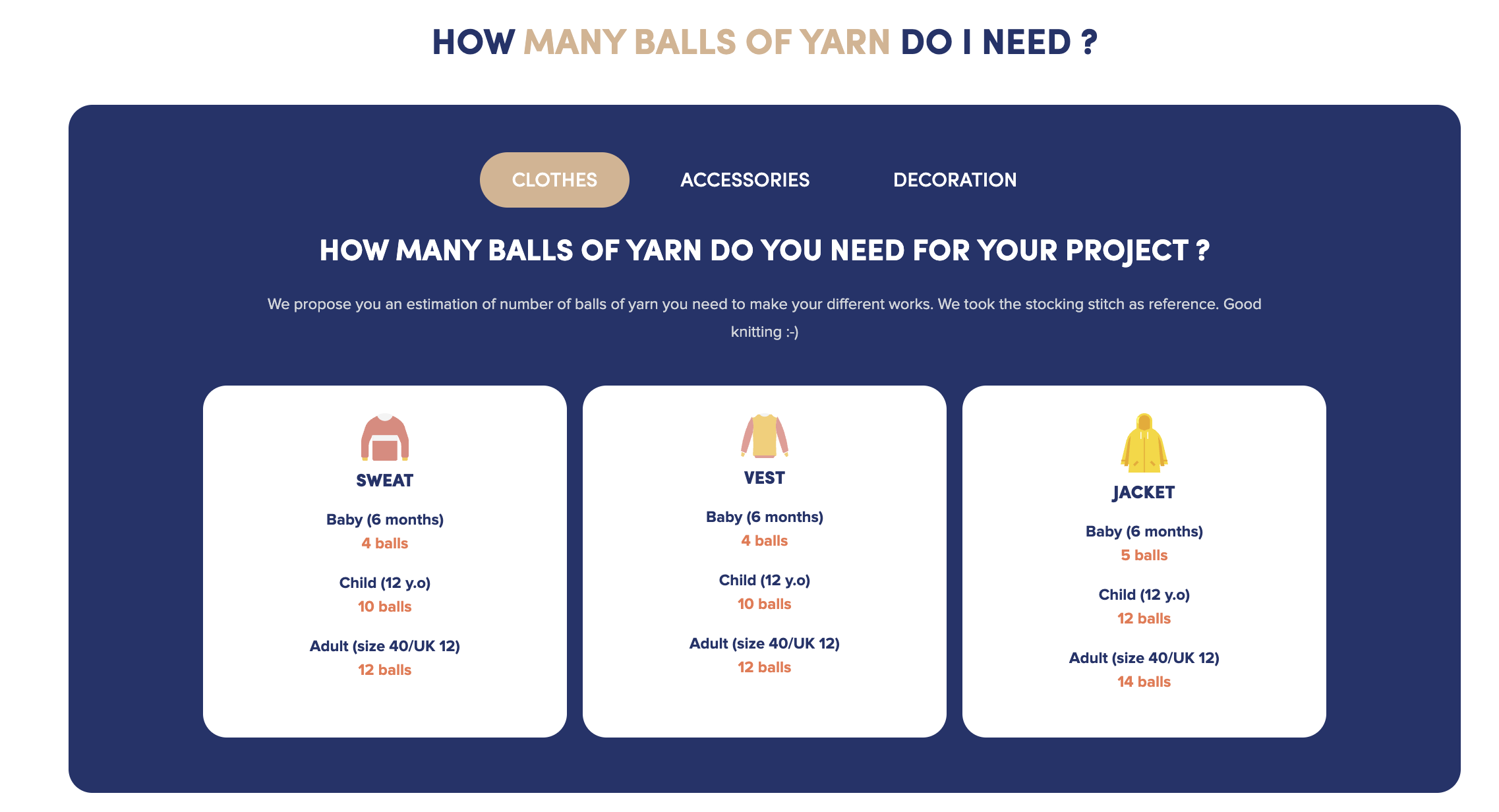 And for beginners ?
For the beginners among you, the possibilities are much more limited, your choices will not be oriented in the same way as someone who is already experienced. We have already written an article about yarns and wools for beginning knitters. In summary, for beginner knitters, we advise you to knit in size 8, a thick wool such as ALPINA 8 or CANADA. These are two of our must-haves for a smooth start to your first project. We also advise you to favour the foam stitch which is the easiest stitch to learn when you are a beginner in knitting. Ideally, you should also start with a scarf or a snood as your first project. Finally, don't be afraid to get started, YouTube is full of all kinds of tutorials to guide you in this new adventure! If you want to keep challenging yourself, La Lainière de Wazemmes offers several kits to knit and crochet.

Want to start your own project? Discover all our yarns and wools ! 
AN ADVICE, A MORE PRECISE QUESTION TO ASK US ?
You can contact us in private message via our social networks Facebook and Instagram Facebook et Instagram, or through the chat bubble at the bottom right of your screen right now. You can also reach us by email lainieredewazemmes@gmail.com or by phone at 03.20.57.09.46.
See you soon, for new knitting tips, with La Lainière de Wazemmes !