Interior decoration in macrame
Hello knitters ! We hope that everything is going well on your side. Today, for once, we're not going to talk about wool, knitting or even needles. We are going to leave our comfort zone ! This article is entirely dedicated to the world of macrame. Do you know it ? We invite you to continue reading the next few lines in order to initiate yourself to this practice and so that macramé has no more secrets for you !
What is macrame ?
To summarize, macrame is a traditional technique of weaving strings or ropes that are successively tied by hand. Created by Arab weavers in the 13th century, macramé then developed in Spain and the rest of Europe. Today, macramé is a great fashion phenomenon and has become a must-have decoration accessory in recent years. You want to give a bohemian chic look to your interior? Go for macrame !
The most famous nodes 
As far as knots are concerned, there is a wide variety of them depending on the project. In fact, some macrame professionals challenged themselves to create a different knot every day for a year... and they succeeded! Moreover, if you combine several different knots together, the possibilities of creation become infinite.
There are 3 types of nodes that we characterize as "basic nodes" to know:
the lark's knot : the knot that we learn at the very beginning in order to start weaving on a support;

the overhand knot : knot made from 4 different ropes, there are several variations of this knot;

the rod knot : knot made from 2 ropes, one stretched and the other tied.

Decoration ideas and macrame accessories
With the help of macrame, you can not only create decorations for your home to give your interior a bohemian style but you can also create accessories to perfect your clothing style.
As far as decoration is concerned, you can opt for wall or floral hangers to dress up your living room, a hanging mirror for your entrance or cushions to enhance your sofa.
For your clothing style, you can succumb to a macrame belt that will accompany your best jeans or a net bag style tote bag to do your daily shopping or go to the beach during your vacation.
Macrame at La Lainière de Wazemmes
You can of course find macrame at La Lainière de Wazemmes to start your most beautiful creations! We offer this type of yarn from Lammy Yarns in 2 sizes: MACRAME 8 in 3mm and MACRAME 10 in 5mm. The little extra of these macrame balls ? They are available in more than 20 different colors ! 
White, green, pink, purple, blue, ecru,... there is something for everyone! 3, 2, 1... Top in macrame !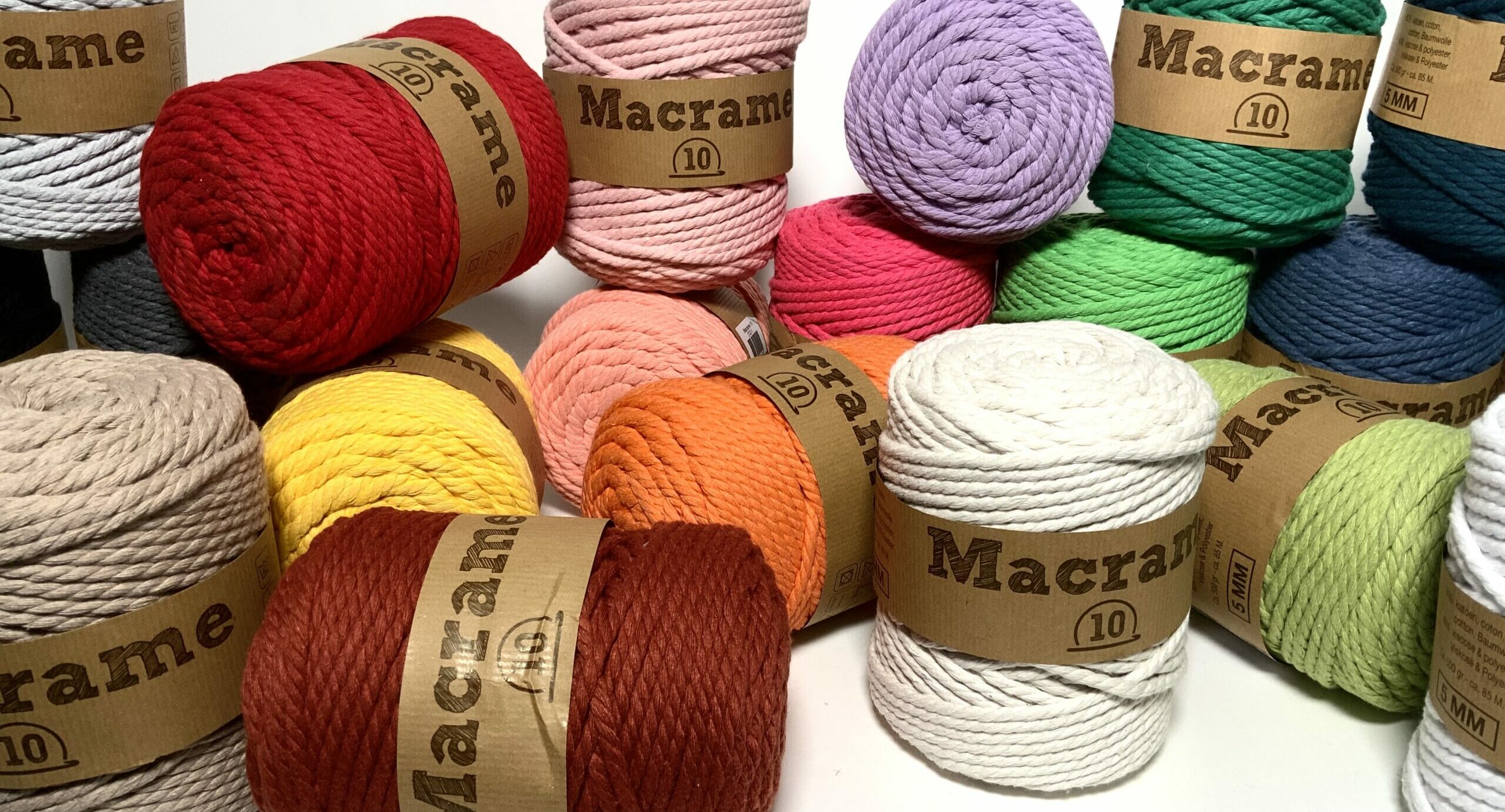 Want to get started ? Download the wall hanging model made by Philomène, talented designer !
AN ADVICE, A MORE PRECISE QUESTION TO ASK US ?
You can contact us in private message via our social networks Facebook and Instagram Facebook et Instagram, or through the chat bubble at the bottom right of your screen right now. You can also reach us by email lainieredewazemmes@gmail.com or by phone at 03.20.57.09.46.
See you soon, for new knitting tips, with La Lainière de Wazemmes !
Written by Pia on Wednesday 01 March 2023 à 11:53, in
Trend .